»The book of Guardian Angels« – How to contact higher beings.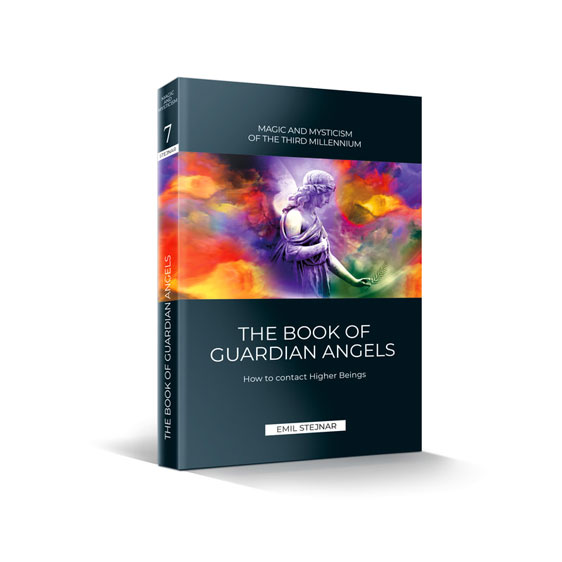 Jetzt geht es Schlag auf Schlag!
Lange mussten die englischsprechenden Leser auf die Übersetzungen der Bücher (mittlerweile 12 Stück) von Emil Stejnar, der ja in der deutschen Leserschaft schon viele langjährige und treue Fans vorzuweisen hat, warten. Aber nun ist es endlich soweit! In erster Übersetzung aus der Reihe » Magie und Mystik im 3. Jahrtausend« erscheint: "Das Schutzengelbuch", und das gleich in englischer und französischer Sprache!
Wie kaum ein anderer neuzeitlicher esoterischer Autor, schreibt Emil Stejnar aus seiner mehr als 60-jährigen Praxis für die Praxis, verlässt dabei nie den Boden der Vernunft und bringt zu einem großen Teil auch völlig neue Einsichten und Erkenntnisse , welche zum Nachdenken und Nachforschen anregen.
Das Schutzengelbuch
»Das Schutzengelbuch« war lange Zeit nur als vervielfältigte Manuskriptausgabe vom Autor persönlich erhältlich, bis es 2007 das erste Mal, beim Wiener Ibera Verlag, veröffentlicht wurde. Eine deutsche Neuausgabe wird jedoch wieder, als Softcover-Buch in der Reihe: »Magie und Mystik im 3. Jahrtausend« im Stejnar-Verlag erscheinen.
Im Schutzengelbuch wird das wahrhafte Wirken der Engel (Genien), sowie deren Eigenschaften, Sigillen, Anleitungen, und Hilfestellungen mit einfachen Worten beschrieben.
Emil Stejnar
Emil Stejnar bewegt sich dabei zwar ganz in der Nachfolge von Franz Bardon, Wilhelm Quintscher und Abraham von Worms, erschließt deren Erkenntnisse hier aber besonders für diejenigen Menschen, die überhaupt keiner esoterischen Tradition folgen. Damit sind wir im Alltag mit all den vielen auftauchenden menschlichen Sorgen und Nöten angelangt.
Der Autor war jahrzehntelang als astrologischer Lebensberater tätig und konnte neben der astrologischen Beratung mit seinen, für jeden Klienten individuell angefertigten Amuletten (welche eine Verbindung zu den Engeln herstellten), auch eine ungemein effektive Lebenshilfe anbieten.
Hilfe durch die Engel und Amulette
Das Fortführen dieser Arbeit hat er mir dann, als er sich vor Jahren komplett aus der Öffentlichkeit zurück gezogen hat, mit allen notwendigen Weihen und Gegenständen übertragen. Seit damals kann ich ebenfalls nur bestätigen, wie viel Gutes durch die Hilfe der Engel, mittels der Amulette, bewirkt wurde. Sie auch meine Webseite: www.walterogris.com
Natürlich kann sich jeder auch selbst an die entsprechenden Engel wenden. Wie man dabei am besten vorgeht, wird ebenfalls im Buch beschrieben.
Erstmalig ist dadurch weltweit ein esoterisches Lebenshilfebuch der besonderen Art auf dem Büchermarkt erhältlich.
Möge dieses Buch nun auch in viele andere Länder das segensreiche Wissen rund um das Wirken dieser Engel zu den Menschen bringen und ihnen dadurch helfen, sich selbst auch wieder als Geistwesen – und nicht nur als Körper aus Fleisch und Knochen – zu erkennen, um dadurch das irdische Leben, für die eigene geistige Entwicklung, bestens zu nützen.
Walter Ogris, Ferlach im Februar 2019
Das Buch ist ab 23.02.2019 bei Amazon erhältlich.
ISBN 978-3-900721-05-3, Seiten: 296, Preis: € 20,–
»The book of Guardian Angels« – How to contact higher beings.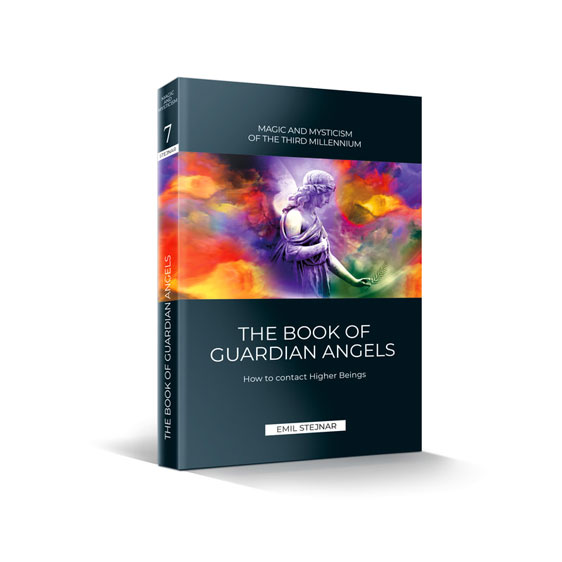 Now it goes very fast!
The English-speaking readers had to wait for the translations of the books (12 books at all) by Emil Stejnar for a very long time. Stejnar´s loyal and faithful readers are extremely happy that it's finally published now!
The first translation in the book series: "Magic and Mysticism of the third Millennium" is available. »Das Schutzengelbuch« is translated into English and French.
Like no other modern spiritual author, Emil Stejnar writes about his daily practice with an experience of more than 60 years. He never leaves the ground of reason and brings to a great extent completely new insights and insights, which encourage reflection and investigation.
The Book of Guradian Angels
"The Book of Guardian Angels" has been available for a long time as a duplicated manuscript edition by the author in person until it had finally been published for the first time in 2007 by the Ibera publishing house in Vienna. However, a German new edition will appear again as a softcover book in the series: "Magic and mysticism in the 3rd millennium" published by Stejnar´s own publishing house.
The Guardian Angel book describes the true workings of the angels (genii), as well as their characteristics, sigils, instructions, and assistance in simple words.
Emil Stejnar
Although Emil Stejnar is quite a follower of Franz Bardon, Wilhelm Quintscher and Abraham von Worms, he opens up their findings here especially for those people who do not follow an esoteric tradition at all. With this we have arrived in everyday life with all the many emerging human concerns and needs.
The author worked for decades as an astrological life counselor and offered astrological consultations in combination with hand-made amulets (which are receiver and connection-builder to the angels) as well as an extremely effective life support.
Help by the Angels and amulets
The continuation of Stejnar´s lifetime achievement has been transferred to me (Walter Ogris) with all the necessary orders and objects, as he had withdrawed from the public many years ago. Since then, I definitely confirm how much good has been done with the help of the angels, by means of the amulets. Please have a look at: www.walterogris.com
Of course, everyone can also turn to the appropriate angels themselves. The best way to do this is described in the book.
For the first time, a special spiritual life book is available worldwide.
May this book bring the beneficial knowledge of the angels to the people and thereby help them to recognize themselves again as spirit beings – and not only as bodies of flesh and bones – to thereby the earthly life, for their own spiritual development.
Walter Ogris, Ferlach in February 2019
The book should be available from 23.02.2019 on Amazon. The price is EUR 20,00
ISBN 978-3-900721-05-3, Pages: 296, Price: € 20,–
Book description:
This book describes the positive effects that angels can have. There
is a heavenly intelligence responsible for every area of life. The
book explains how to ask these beings for help and which angel to
turn to. A simple method makes it possible to contact these invisible
helpers. What was once the preserve of priests and initiates can
now be achieved by any reader who follows the instructions.
The author, Emil Stejnar, is a successor of the famous magician
Franz Bardon. Thanks to decades of experience as an astrological
life coach, he knows the worries people are prone to and knows
how these problems can, with the help of the angels, be solved. The
names, seals and words of advice of 78 attendant spirits are listed:
there are angels for health, love, marriage, family, wanting children,
loneliness, divorce, sex, problems with drugs, alcohol and weight,
injustice, school, exams, fear and self-confidence, career and success,
money and happiness, shredded nerves, fateful events. Protection
from accidents, muggings, loss. Defence against enemies, demons
and magic. Contacting the other side, death and awakening.
For over 40 years Stejnar's book of guardian angels has been one
of the most sought after and popular works of angel literature.
This valuable advice makes this unique self-help book a source of
wisdom and comfort that offers hope and reassurance in even the
most desperate situations. Just reading the book of guardian angels
can often work miracles.
Table of contents
THE WORLD OF THE ANGELS 15
THE ANGEL SPEAKS 18
THE THREE PATHS FOREWORD 7
THE HIERARCHIES 10 20
THE ASCENT 22
THE FIRST STEPS 25
THE ALTAR 28
THE CONTACT RITUAL 31
THE PRAYER 33
THE ANGEL PRAYER 35
THE ACT OF CONSECRATION 38
THE GUIDEBOOKS 40
THE DUTIES 42
THE INITIATION 43
RELIGION 47
MEETING IN TRANQUILLITY 50
ENTER INTO TRANQUILLITY 51
PRAY – REQUEST – MEDITATE 57
BALANCE AND OFFERING 60
A Happy Marriage Through a Vow of Balance 61
Changing Your Fate Through Offerings 63
POSITIVE THINKING 65
YOUR OWN BUSINESS 72
The Covenant with the Invisible 74
WHAT IS AN AMULET? 78
DIRECTIONS FOR PRACTICE 80
THE PATH 86
HAPPINESS 90
FATEFUL EVENT 97
DEPRESSION 102
TIRED OF LIFE 107
DE-RANGED 109
LOVE 111
SUFFERING IN LOVE 115
FAITHFULNESS 119
FAMILY 124
DIVORCE 126
SEX 128
SELF-CONFIDENCE 129
HEALTH 134
Life Force 134
Diabetes 140
Naturopathy 141
Protection from Illness. 142
Pregnancy 142
Alcohol and drugs related illness 143
Sleeplessness 145
Rested nerves – peaceful soul 146
Magnetic healing 148
Constantly ill – incurable? 149
ASTROLOGICAL LIFE TEA 151
The two secrets of the Angel of Herbs, PARACHMON 152
DEPENDENCY, DIET AND WILLPOWER 156
IVAR, the Angel of Transformation 163
JUSTICE 168
ACCIDENT 170
THE ANGELS OF GUILDS FOR SUCCESS IN BUSINESS 172
MONEY 178
SUCCESS 186
EDUCATION 196
PROTECTION 198
MAGIC AND THE PATH OF MASTERY 204
DARK MAGIC 210
KARMA AND FATE 214
ASTROLOGY AND FORESEEING YOUR LIFE 220
DEATH 224
HELP 230
REGINA ANGELORUM, THE QUEEN OF THE ANGELS 233
CONCLUSION 234
THE SEALS OF THE ANGELS 239
LIST OF THE ANGELS 240
MAGIC AND MYSTICISM IN THE THIRD MILLENIUM 267
ABOUT EMIL STEJNAR 295
About Emil Stejnar
Born in 1939 in Vienna (Austria). Stejnar has been engaged in magic and mysticism since his early youth. Through numerous publications and media appearances he became well known at home and abroad. Next to running his own jewellery store he directed for twenty years the "Institute for scientific destiny research" and is founder of Gnostic Hermeticism, which carries the old Traditions forward into the third millenary. He is particularly concerned with Free-Masonry and Astrology, as this is where he found the interface that links the World of the Mind with the World of the Matter, thus the world of esotericism with the world of science. Stejnar is reckoned to be the successor of famous magician Franz Bardon, and he is mentioned in the preface of the new edition of George R.S. Mead's work on Gnosis "Fragments of a Faith Forgotten" next to great minds such as C.G.Jung, Mozart, Hegel, Nietzsche, Rilke, Kafka and next to adepts such as Jakob Böhme, Papus, Eliphas Levi and Aleister Crowley to be the last of the major gnostics.
»Le Livre des Anges« – Comment obtenir un contact avec les êtres supérieurs.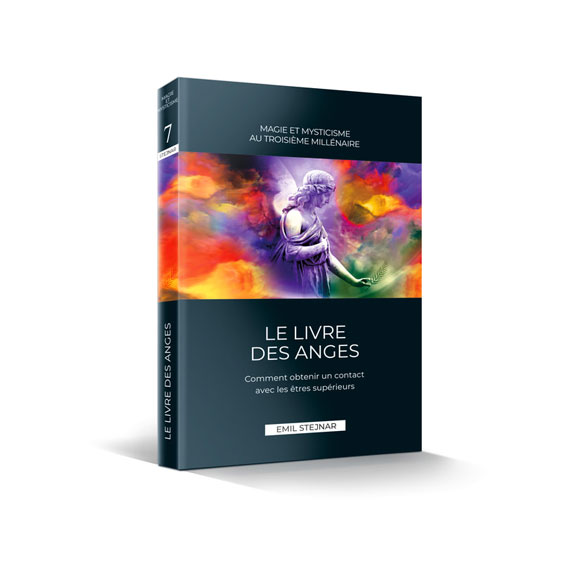 Maintenant ça va très vite!
Les lecteurs anglophones ont dû attendre très longtemps les traductions des ouvrages (12 au total) de Emil Stejnar. Les lecteurs fidèles et fidèles de Stejnar sont extrêmement heureux que ce soit enfin publié!
La première traduction de la série de livres: Magie et mysticisme du troisième millénaire "est disponible. »Das Schutzengelbuch« est traduit en anglais et en français.
Comme aucun autre auteur spirituel moderne, Emil Stejnar écrit à propos de sa pratique quotidienne avec une expérience de plus de 60 ans. Il ne quitte jamais le terrain de la raison et apporte dans une large mesure des idées complètement nouvelles qui encouragent la réflexion et l'investigation.
Le livre des anges
"Le Livre des Anges" est disponible depuis longtemps sous forme de manuscrit dupliqué de l'auteur en personne jusqu'à sa publication définitive pour la première fois en 2007 par la maison d'édition Ibera à Vienne. Cependant, une nouvelle édition allemande apparaissent à nouveau sous forme de livre à couverture souple dans la série: "Magie et mysticisme au 3e millénaire", publiée par la maison d'édition de Stejnar. »Le livre des anges« décrit le fonctionnement réel des anges (génies), ainsi que leurs caractéristiques, leurs sceaux, leurs instructions et leur aide en termes simples.
Emil Stejnar
Bien qu' Emil Stejnar soit un disciple de Franz Bardon, Wilhelm Quintscher et Abraham von Worms, il expose ici leurs découvertes, en particulier pour ceux qui ne suivent pas du tout une tradition ésotérique. Avec cela, nous sommes arrivés dans la vie quotidienne avec toutes les préoccupations et besoins humains émergents.
L'auteur a travaillé pendant des décennies en tant que conseiller en vie astrologique et a proposé des consultations astrologiques combinées à des amulettes fabriquées à la main (receveur et créateur de liens avec les anges) et à un assistance de vie extrêmement efficace.
Aide des anges et des amulettes
La suite des réalisations de Stejnar m'a été transférée à moi (Walter Ogris) avec tous les ordres et objets nécessaires, comme il s'était retiré du public il ya de nombreuses années. Depuis lors, je confirme avec certitude tout le bien accompli avec l'aide des anges, grâce aux amulettes. S'il vous plaît jeter un oeil à: www.walterogris.com
Bien sûr, tout le monde peut également se tourner vers les anges appropriés eux-mêmes. La meilleure façon de faire est décrite dans le livre.
Pour la première fois, un livre de vie ésotérique / spirituel spécial est disponible dans le monde entier.
Puisse ce livre apporter aux gens la connaissance bénéfique des anges et ainsi les aider à se reconnaître à nouveau comme des êtres spirituels – et pas seulement comme des corps de chair et d'os – afin de contribuer ainsi à la vie terrestre, pour leur propre développement spirituel.
Walter Ogris, Ferlach en février 2019
Le livre devrait être disponible à partir du 23.02.2019 sur Amazon.
ISBN 978-3-900721-04-6, des sites: 304, prix: € 20,–
description du livre
Ce livre décrit la manière d'agir des anges. Pour chaque sphère de la vie, il existe une intelligence céleste compétente. L'auteur explique comment demander de l'aide à ces êtres et vers quels anges se tourner. Une méthode simple permet d'établir un contact avec les assistants invisibles. Ce qui était auparavant réservé aux prêtres et aux initiés est accessible aujourd'hui à chaque lecteur suivant les instructions.
L'auteur Emil Stejnar est considéré comme le successeur du célèbre magicien Franz Bardon. Les décennies de pratique en tant que consultant astrologique, lui ont fait connaître tous les soucis des gens et il sait comment résoudre les problèmes avec l'aide des anges. Les noms, sceaux et conseils de 78 génies sont cités: Anges pour la santé, bonheur en amour, mariage, famille, désir d'enfants. Solitude. Divorce. Sexe. Problèmes de drogues et d'alcool et problèmes de poids. Injustice. École, examens. Peur et confiance en soi. Profession et succès. Argent et chance. Crises nerveuses. Coup du sort. Protection contre les accidents, les attaques, les pertes. Défense contre les ennemis, les démons et la magie. Contacts avec l'au-delà, la mort et l'éveil.
Depuis plus de 40 ans, Le livre des Anges de Stejnar est l'un des ouvrages les plus recherchés et les plus populaires de la littérature angélique. Les précieux conseils font de ce livre extraordinaire une source de sagesse et de réconfort et donnent espoir et confiance même dans des situations désespérées. Le livre des Anges provoque souvent des miracles lors de la lecture déjà.
TABLE DES MATIÈRES
Avant-propos 7
Les Hiérarchies 10
Le monde des anges 15
Les paroles de l'ange 18
Les trois sentiers 20
L'ascension 22
Les premiers pas 25
L'autel 28
Le rituel de contact 31
Les prières 33
La Consécration à l'Ange 35
La Consécration. 39
Les indicateurs du chemin 41
Les devoirs 43
L'admission 44
Religion 47
Rencontre dans le silence 50
Recueillement dans le silence 52
Prier – demander – méditer 58
Compensation et sacrifice 60
La paix dans la vie commune par l'acte de la compensation 61
Transformation du destin par le sacrifice 64
La pensée positive 66
Pour ma propre cause 73
L'Union avec les Invisibles 75
Qu'est-ce que une amulette 79
Indications pour la pratique 81
Le chemin 88
Le bonheur 91
Coup du destin 99
Dépression 104
Lassitude de la vie 109
Folie 111
Amour 113
Chagrin d`amour 117
Fidélité 122
Famille 127
Divorce 130
Sexe 131
Confiance en soi 133
La Santé 138
La Force vitale 138
Diabète 144
Naturopathie 145
Protection contre les maladies 146
Grossesse 147
Dépendance à l'alcool et la drogue. 147
Problèmes de sommeil 149
Calme nerveux – tranquillité d'esprit/sérénité 150
Magnétisme de guérison 152
Constamment malade – incurable ? 153
L'infusion vitale astrologique. 155
Les deux secrets de l'ange des herbes
médicinales PARACHMON 156
Addiction, diète et volonté 161
Ivar, l'ange de la transformation 168
Justice 172
Accident 175
Les anges de l´union pour le succès professionnel 176
Argent 183
Succès 191
Études 202
Protection 204
La magie et le chemin vers la maîtrise 211
Magie noire 216
Karma et destin 221
Astrologie et prévision 227
La Mort 231
L´Aide 237
Regina Angelorum, La Reine des Anges 239
Èpilogue 241
Les sceaux des anges 247
Magie et mysticisme au troisième millénaire 275
Recommandations de livres 279
Sur l'auteur 304
à propos de l'auteur Emil Stejnar
Né à Vienne en 1939, Stejnar est impliqué dans la magie et le mysticisme depuis sa plus tendre enfance. De nombreuses publications et apparitions dans les médias l'ont fait connaître chez lui et à l'étranger. En plus de son activité en tant que bijoutier, il a dirigé l'Institut de recherche scientifique sur le destin pendant vingt ans et est le fondateur de l'hermétique gnostique, qui conduira les anciennes traditions au troisième millénaire. La franc-maçonnerie et l'astrologie sont ses principales préoccupations, car il a trouvé les interfaces qui relient le monde de l'esprit au monde de la matière, donc le monde de l'ésotérisme au monde de la science. Stejnar est considéré comme le successeur du célèbre magicien Franz Bardon et il est mentionné en tant que dernier gnostique significatif dans la préface de la réédition du probablement plus important œuvre sur la Gnose « Fragmente eines verschollenen Glaubens », à côté des Grandes esprits comme C.G. Jung, Mozart, Hegel, Nietzsche, Rilke, Kafka, ainsi que des initiés tels que Jakob Bohme, Papus, Eliphas Levi et le doyen, Maître Aleister Crowley.
Ora va molto veloce!
I lettori di lingua inglese hanno dovuto aspettare per molto tempo le traduzioni dei libri (12 libri) di Emil Stejnar. I lettori fedeli e fedeli di Stejnar sono estremamente contenti che ora sia finalmente pubblicato! Nella prima traduzione appare: "The Guardian Angel Book", e lo stesso libro sarà tradotto anche in inglese e francese!
Come nessun altro autore spirituale moderno, Emil Stejnar scrive sulla sua pratica quotidiana con un'esperienza di oltre 60 anni. Non lascia mai il terreno della ragione e porta in larga misura idee e intuizioni completamente nuove, che incoraggiano la riflessione e l'investigazione.
The book of Guardian Angels
"The book of Guardian Angels" è stato a lungo disponibile come edizione duplicata del manoscritto dell'autore fino a quando non è stato finalmente pubblicato per la prima volta nel 2007 dalla casa editrice Ibera di Vienna. Appare di nuovo come un libro a copertina morbida della serie: "Magia e misticismo nel terzo millennio", pubblicato dalla casa editrice di Stejnar.
Il libro dell'Angelo Custode descrive il vero funzionamento degli angeli (geni), nonché le loro caratteristiche, i sigilli, le istruzioni e l'assistenza in parole semplici.
Emil Stejnar
Sebbene Emil Stejnar sia un vero seguace di Franz Bardon, Wilhelm Quintscher e Abraham von Worms, apre qui le loro scoperte soprattutto per quelle persone che non seguono affatto una tradizione esoterica. Con questo siamo arrivati nella vita di tutti i giorni con tutte le molte preoccupazioni e necessità umane emergenti.
L'autore ha lavorato per decenni come consulente di vita astrologica e ha offerto consultazioni astrologiche in combinazione con amuleti fatti a mano (che sono i ricevitori e costruttori di connessioni agli angeli) e un supporto / coaching estremamente efficace.
Aiuto dagli angeli e dagli amuleti
La continuazione della carriera di Stejnar mi è stata trasferita (Walter Ogris) con tutti gli ordini e gli oggetti necessari, come si era ritirato dal pubblico molti anni fa. Da allora, confermo definitivamente quanto è stato fatto bene con l'aiuto degli angeli, attraverso gli amuleti. Si prega di dare un'occhiata a: www.walterogris.com
Naturalmente, tutti possono anche rivolgersi agli angeli appropriati. Il modo migliore per farlo è descritto nel libro.
Per la prima volta, uno speciale libro di vita esoterico / spirituale è disponibile in tutto il mondo.
Possa questo libro portare la conoscenza benefica degli angeli al popolo e quindi aiutarli a riconoscersi di nuovo come esseri spirituali – e non solo come corpi di carne e ossa – per conseguire la vita terrena, per il loro sviluppo spirituale.
Walter Ogris, Ferlach nel febbraio 2019